SLB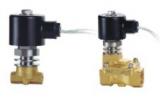 2/2-way high/low temperature solenoid valve
| | |
| --- | --- |
| Body: | forged brass |
| Temp. | -100°C ~ +200°C |
| Orifice Φ [mm]: | 1.5 ~ 40 |
| Pressure: | 0 ~ 50 bar |
| Pipe connection: | 1/4" ~ 6/4" |
| Media: | Steam, hot conducting oil, N2, 02, CO2 |
| Type: | normally close |
SLB Series solenoid valve it is serialized products, large flow ratengood applicability. Widely used in steam, oil and the other high & low temperature liquid control.
Adopted high temperature resistance seal material PTFE - when the media passage the properties is good.
Coils type: high temperature resistance coil meanwile has the heat conduction protection.
Ensure the long life time and high reliability.



Main Technical Parameters
2/2-Way solenoid valve, Closed when de-energized, open when energized.
Main material: body: forged brass, component: stainless steel
Seal Material: TEFLON
Ambiet Temp.: -20  +65°C
Media Temp.: low temp.: -100°C -10°C,  high temp.: +99°C +185°C
Media: high temperature: steam, heat conducting oil and so on low temperature: N2, 02, CO2. Attenation: under the naturature temperature, such as air, water and the other media, please choose the other economy & suitable solenoid valve.
Voltage: AC24V/110V/230V 50/60Hz, DC12V/24V
Power Consumption: AC27VA (16W) DC24W.
Voltage Tolerance: ±10%
Coils type: W (Normal)=Leed Wires, A=DIN Standard, Metallic Housing
Safty Series: Class H Heat resistance coil, IP 65
Install: Flow as the arrow, solenoid vertical and upright direction. lf media has the granule impurity, please install more than 60 mesh filter.